Our Story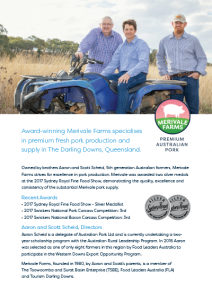 Award-winning Merivale Farms specialises in premium Australian fresh pork production and supply — for domestic and export markets
Fifth generation Australian farmers Aaron & Scott Scheid and their parents, Lea-Ann and Don Scheid of Merivale Farms, strive for excellence in pork production in Australia. Lea-Ann and Don have farmed at Merivale Farms on the Darling Downs since 1989 – almost 30 years. Prior to 1989 Don was a veteran cattle farmer working for one of Australia's most respected and successful beef producers – S. Kidman & Co, founded in 1898.
Don's father, grandfather and great grandfather before him worked for Kidman!
Download the Merivale Farms Brochure
Farrow-to-Finish Pork Operation — Aaron and Scott along with their valued team manage a 1050 sow 'farrow-to-finish' pork operation at two state of the art facilities, Allora and Bell, on the Darling Downs, Queensland.
Merivale guarantees an uninterrupted supply of premium, award-winning home-grown Pork, with production exceeding 30 tonnes of fresh pork each week.
The Darling Downs is one of Australia's key agricultural regions, noted as an exceptionally fertile region and highly regarded for its 'clean and green' image.
Merivale Farms is a member of Australian Pork Limited, Tourism Darling Downs, The Toowoomba and Surat Basin Enterprise, Food Leaders Australia and The Toowoomba Chamber of Commerce.